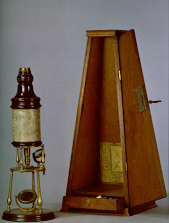 36 x 13.3 (microscope)
45 x 17.6 x 19.3 (case)
Ebony, bronze, ray skin, glass and reflecting glass
INDEX 1788 : V.IV.358
Aluid Microscopium praecedenti simile, cujus lentes differentis magnitudinis, et aliae partes metallicae, et eburneae in capsula lignea separatim servantur.
A microscope similar to the preceding one with lenses of different thickness, some metal and ivory parts in a separate wooden box.
This is a splendid microscope made in London by Edmond Culpeper. It is part of the collection in the Gabinete de Física, having been given to the University by Jacob de Castro Sarmento, a renowned Portuguese doctor who lived in London.

The base of the microscope bears the following inscription:

"JACOB de CASTRO SARMENTO, MEDICUS LUSITANUS, REGALLIS COLEGII. MEDICORUM LONDINENSIUM COLLEGA, REGIAE que SOCIETATIS SOCIUS, DONAVIT ACADEMIAE CONIMBRICENCI, in USUM MEDICINAE PROFESSORUM ad OBSERVATIONES BOTANICAS et ANATOMICAS CONFICIENDAS, Anno MDCCXXXI (CULPEPER LONDINENS, invenit et FECIT).

This microscope was not part of the collection in Colégio dos Nobres. It came to Coimbra in 1731, where it has remained ever since.

Nollet, Jean-Antoine, Leçons de Physique Expérimentale, Paris, 1764, Vol. VI, Leçon XVII, p. 364, Fig. 18.