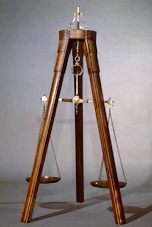 188 x 122 (tripod)
116 x 70 x 34.4 x (balance)
Iron, bronze, brass and wood
INDEX 1788 : C.IV.104
Bilanx magna, ocularis, accuratissima, cujus jugum est long. poll. 26. Lances binae, diametro poll. 12 1/2 pendente ex catenis aeneis.
Large balance with two pans, ocular, very precise, with a 26 inch beam. Two pans 12 inches and a half in diameter hanging from bronze chains.
This machine consists of a large balance, in excellent state of conservation, with pans which hang from bronze chains. It is shown suspended from a large wooden tripod on the top part of which there is a metal piece, equipped with a screw that moves up or down via a winged screw-nut. According to the Index Instrumentorum of 1788, the tripod, which did not belong to this balance, was used in various experiments of mechanics.
From Colégio dos Nobres, catalogue n.º 96 and n.º 132 the tripod.
´s Gravesande, Willem Jacob, Physices Elementa, 1742, Leiden, Vol. I, § 1441, Tab. XLVI, fig. 1 and 2.