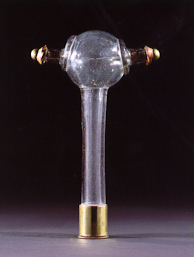 28.2 x 16.9 x 8.4
Glass and brass
CAT. 1824 : N.IV.164
Um apparelho de vidro para a decomposição da agoa pela electricidade.
An apparatus made of glass for decomposing water by electricity.
Electrochemistry has been developing continuously since the first studies began in 1800 and is now a vast area of scientific knowledge with countless applications in industry. Such progress would have been impossible without the discovery of the electric battery. The decomposition of water by electrolysis, discovered by Carlisle and Nickolson counts as one of the important advances achieved through the electric battery.
The apparatus described here was designed for teaching purposes to demonstrate the decomposition of water. In addition, it showed that the process of electrolysis occurred even at very high interior pressures. The apparatus comprises a hollow sphere whose interior communicates with a cylindrical tube. This tube ends with a piece of brass which has a threaded lid. There are two electrodes inside the sphere and these are connected to the electric battery. The receptacle should be closed hermetically to show that electrolysis of water also takes place at higher interior pressures. The glass walls of the voltammeter are quite thick, to withstand these pressures.