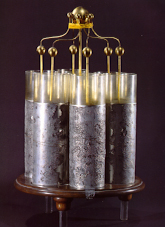 77.8 x 44.7
Glass, tin leaf, brass and woos
CAT. 1878 : 407
Bateria electrica de sete garrafas grandes, systema Allemão.
Electric battery comprising seven large jars, German system.
This is an electric battery composed of seven jars arranged on a small round table, electrically insulated by three glass feet. The top of the table has seven round depressions, each of which corresponds to a jar. There are strips of tin on the surface of the table, connecting the depressions radially so as to establish electrical contact between the external shields of the jars.

The inner surface of each jar is coated by tin leaf, which forms the internal shield of the condenser, and they are connected to one another by brass conductors.

An electrical terminal on the rim of the table top is connected to a strip of tin that establishes electrical contact between the outer shields of the jars.

Acquired by the Gabinete de Física in 1873.

Ganot, A., Traité Élémentaire de Physique, 19th edition, Paris, 1884, p. 868, Fig. 776.