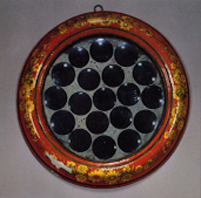 40 (diameter)
Painted wooden frame with floral polychromous decoration and mirror
INDEX 1788 : Z.III.379
Duo specula priori simila rotunda: utrumque compositum est ex 19 speculis convexis, et cingitur corona lignea pu lcre picta.
Two round mirrors similar to the previous ones, each one composed of 19 convex mirrors, surrounded by a beautifully painted wooden crown.
Two mirrors, each one of them consisting of 19 small mirrors, in the shape of spherical hubs, distributed uniformly on a circular plate. This plate is composed of a central glass and a wooden frame which surrounds it. The frames are painted with flowers, one of them having a red background, the other a green background.
These mirrors give 19 simultaneous virtual images of one object, the images being smaller than the actual object.
From Colégio dos Nobres, catalogue n.º 372.